Just Show Me The Foreclosures Already!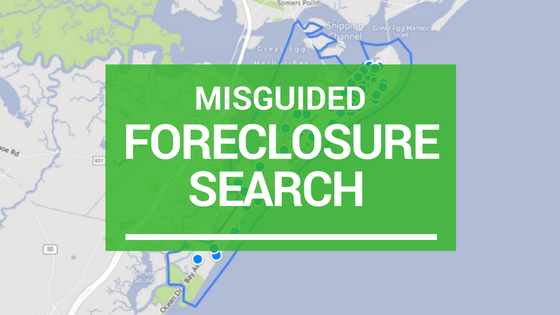 Everyone wants a great deal, right?
Many frustrated buyers contact their real estate agent about a local "foreclosure" or bank-owned property they found online, only to find out the property isn't actually available for sale. We find this to be very true in markets like Ocean City, where there are very few distressed sales.
Here is what happens... Websites such as Zillow.com have a foreclosure search feature, which brings up a long list of foreclosure properties in a given area. Often the listings appear to be priced extremely well. For example, as of today, Zillow represents that there are 18 foreclosed properties and 39 pre-foreclosures in Ocean City NJ. According to our MLS system, there are actually only 2 bank owned foreclosure properties available for sale in Ocean City NJ! When a foreclosure property does become available the bank will almost always list it with a real estate agent for sale, just like any homeowner. Once that happens, every local real estate agent will know about the property listing, and be able to sell it.
Buyers become frustrated because these listings, which aren't actually for sale and may never be, can appear during a home search mixed in with all of the other property listings. This happens because these websites can take any outstanding debt as a sign of pre-foreclosure. The truth is most of these never actually become a foreclosure. If they do, it can be a lengthy amount of time between hitting Zillow, and actually being listed/available for sale.
As real estate professionals, we can tell you if the property is indeed bank owned, going to auction, or available for sale. Just ask about any listings you see...and we'll be happy to fill you in on any of the details!
Below is a list of distressed properties that are available for purchase on the mls. This list will also include short sale properties along with bank owned foreclosures. A short sale is often referred to as a "pre-foreclosure" as well. However, the bank does not own the property yet, and it may never go to foreclosure. It's important to remember that most of the short sale sellers are not yet approved to sell, and the price likely isn't approved yet. Buying a short sale is very different from a foreclosure, please contact us for more details on this process.
When viewing a property's listing details, you'll see towards the bottom of the page if it is a bank owned foreclosure or a short sale (just like in the image above).


Sorry we are experiencing system issues. Please try again.